USS HENRY L STIMSON
(SSBN 655)

Reunion 12

Registration Form

MSWord PDF
If you email your form, registration is not complete until a check is received.

Reunion Registration Deadline

September 1, 2023
---
REGISTRATION CANCELLATION POLICY

The Association has established a refund policy for reunion registrations. It is located in our Bylawas in Article V.g. You can view this policy HERE.

V. MEETINGS and REUNIONS


g. Cancellation of reunion registration and the refund of monies paid will be based on the timing of the cancellation. Registration cancelled prior to the reunion registration cutoff date will result in refund of monies paid minus the registration/office fee. For cancellation after the registration cutoff date, there will be no refund of monies paid.






Hilton Garden Inn Summerville
406 Sigma Drive
Summerville, SC 29486
843.832.1304
This hotel was opened in 2020.


Booking Link


Reserve with either:
USS Henry L. Stimson Reunion
or
Block Code UHS

---
REGISTRATION IS CLOSED



REGISTERED SAILING LIST



132 registrations received as of
6 October 2023
updated as registration forms are received



Registered Attendees Sailing List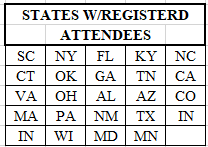 ---
The USS HENRY L. STIMSON SSBN655 Associaton welcomes ALL SHIPMATES
who served on the boat at any time along
with their families.
We also invite families of our
Stimson shipmates who are on
Eternal Patrol to join us at Reunion #12.
LOCAL RV CAMPING

YOU ARE NOT ALLOWED TO SLEEP IN YOUR RV / CAMPER IF IT IS PARKED IN THE HOTEL LOT OVERNIGHT. We're sorry for the change but we were just notified [7.17.23] about this miscommunication with the hotel.
Most Walmarts will allow parking in their lots but you must be self-contained. There are two Walmarts in close proximity to our venue. Call to ensure they have space.

Summerville Supercenter
Walmart Supercenter #1037
1317 N Main St Ste A1, Summerville, SC 29483
843-821-1991
Get directions 1.4 Miles

Summerville Supercenter
Walmart Supercenter #628
9880 Dorchester Rd, Summerville, SC 29485
843-871-3303
Get directions 8.8 Miles


OTHER RV PARKING


Charleston KOA
9494 Hwy 78, Ladson, SC 29456
(843) 797-1045 7.3 Miles
Get directions

Ladson RV Park
9687 Jamison Rd., Ladson SC 29456
(843) 442-1851 7.5 Miles
Get directions





Summerville Lakes RV Park and Campground
3121 Hwy 17A S, Summerville SC 29485
(843) 441-0301 13.3 Miles
Get directions

Military Park JB Charleston RV Park (JB Charleston)
437 SVS/SVRO, Bldg 647, Charleston, SC 29404
(843) 963-1672 17.8 Miles
Get directions

Military Park Short Stay Rec Area (JB Charleston)
211 Short Stay Rd, Moncks Corner, SC 29461
(843) 743-2608 22 Miles
Get directions

Givhans Ferry
746 Givhans Ferry Rd, Ridgeville, SC 29472
(843) 873-0692 24.5 Miles
Get directions